E-Commerce
✓
Payments accept credit card payments online
✓
MX Merchant the best and lowest cost way to process online credit card payments there is
✓
PayPal & Authorize.Net integrate your site with PayPal and Authorize.Net
✓
Catalog & Shopping Cart web catalog and shopping cart functionality
✓
Point of Sale point-of-sale software, invoicing, billing & payment solutions
✓
Vaulted Cards secure and PCI compliant card vaulting for future payments
✓
Recurring Charges monthly and recurring payments
WEBSITE SHOPPING CARTS
Get setup with shopping cart and catalog management software for a fully customizable storefront capable of handling catalogs with thousands of products & customers.
ONLINE ORDERING
Need to design a custom order form? We can help you take orders for your product or service and accept payments online.
PAYMENT PROCESSING
When setting up online website payments, sometimes a simple PayPal integration is adequate, and sometimes a more powerful integration with an online payment gateway works better and costs less. We can help figure out your best options.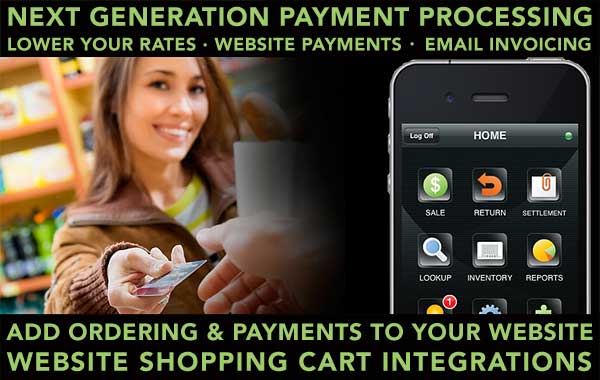 ONLINE STOREFRONTS
You have many options when building online ordering into your website, including using hosted platforms and pre-built solutions. The benefits of incorporating a custom solution into your site are that you are creating your own unique presence on the web, it can save you money over time, and you are not locked into one system or company. We've have some great software and tools available so contact us to discuss your goals.