MX Point of Sale - Free POS for iPad & iPhone
MX Merchant Basic supports MX Point of Sale - a Cloud POS that runs on any computer. The mobile POS app turns your iPhone, iPad, or iPod into a full-featured handheld point-of-sale system, allowing you to take MX POS anywhere to process sales within WiFi range or using your iPhone or iPad data plan. Our Mobile & Light plan includes MX Merchant Basic, which supports these features.
You get all these features at low Interchange-Plus processing rates, saving you money on an estimated 90% of transactions when compared to Square.
Accept Credit Cards in the Cloud
If you or your sales people work on the road, MX Point of Sale is a truly mobile solution. Use the iPhone or iPadd app to process sales from anywhere using your data plan, and you'll still have access to the same inventory data, reports and other features while on the road. With he Cloud-Based MX Merchant service, you can have access to your from multiple devices in multiple locations, with high levels of security built-in. View Merchant Account Plans and signup online - paperless and fax-free application.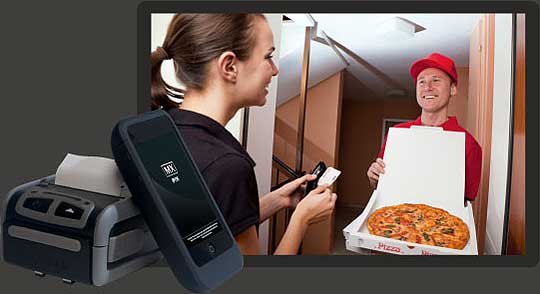 All at Interchange Plus pricing
Interchange Plus rates are based on the charges Visa & Mastercard charge to process transactions. All merchant account providers pay these fees, and one way or another, include the fees in what they charge the merchant. With Interchange Plus, the actual fees and assessments Visa & MC charge are passed to you, plus a very small markup for the Merchant Account provider's processing fee. This normally results in much lower costs for merchants.
Interchange Plus merchant accounts are often reserved for merchants with very high card transaction processing volumes. We offer them to merchants of all sizes, so select a Merchant Account Plan and signup online with our paperless and fax-free application.
Redwood Internet is a registered agent of Merchant Services Central & Priority Payment Systems, LLC.
Retail Tablet / iPhone POS
For counter sales, MX Point of Sale can run on your iPad and be bundled with a cash drawer, receipt printer, and barcode scanner. The fully integrated system allows you access to all your MX Merchant data. You can process transactions, manage inventory, access your customer database, run reports and more. MX Point of Sale includes features such as loyalty programs, customer database, custom receipts, email receipts or print receipts, couponing, real-time inventory and more.
Hardware bundles are available, with integrated equipment including a cash drawer, tablet stand, barcode reader, printers, and card swipe products for iPhone, iPad, and iPods.