MX Merchant Gateway & PrestaShop
Benefits
Holy Grail - Interchange card processing with website payment gateway integration Online Payment Gateway Included - process online orders online directly through processor without a third party gateway service Lowest Card Processing Rates - If you are processing already, you'll save money vs. your current processor AVS Fraud Protection - decline AVS & CVV mismatch orders Free Shopping Cart & Web Catalog Software - sleek open source web storefront and shopping cart software by PrestaShop
Super-Low Interchange-Based Rates
Interchange + 0.20% + $0.10 - More info
PCI and Statement Fees waived for merchants with qualifying volume. A low fee of $12/month applies for accounts processing under $10,000 per month. Fee covers statement, PCI compliance, and gateway charges.
United States Only
Demo
About
We've met many small businesses evaluating the choices and options when building a webstore or adding online orders to their website. The options are many, from hosted platforms with customization limitations and high processing rates to highly custom solutions with expensive software. In the past, to take secure payments through a website, a business could at least expect to pay for a gateway provider on top of hosting, an SSL certificate, card processor fees, and catalog software or development costs. Or, you can use a 3rd party service like PayPal and expect to pay higher processing rates. We've been monitoring the various options for over 17 years, and have combined several solutions into a holy grail combination of great open source software integrated directly with a great payment processor. Open source storefront software and MX Merchant combine very well for a highly functional web storefront and payment system that will save money compared to all other options.
PrestaShop
Having tested many platforms over the years, we like where PrestShop is going with their e-commerce storefront solutions. PrestaShop is open source and the software license is free, but that does not mean it is without features. It is an impressive web catalog solution with an sleek back office that we enjoy using. There are many modules and add-ons available that can be easily added into your store to accommodate your needs, and because it is open source, everything can be fully customized. Your website is your website, allowing you to build your own identity and presence in the online marketplace. As powerful as it is today, PrestaShop will continue to evolve with available updates and new add-on solutions from the open source community. And, it's free.
MX Merchant
For over 17 years, we've been looking for new payment solutions that can benefit small businesses. MX Merchant by Priority Payment is a suite of solutions that take small business payment processing to the next level. Available tools include cloud based point-of-sale solutions and the online MX Merchant platform which allows sleek solutions for invoicing and payment. Combining PrestaShop with the MX Gateway gives you access to all the MX Merchant tools while enabling your online store to securely accept orders using PCI compliant technology. Further, we're including the gateway integration with processing set at rates that will save any business money compared to other processors.
Redwood Internet
We've combined these solutions into a true customizable business backbone. Get website hosting, PrestaShop's online catalog software, SSL certificate, interchange-based credit card processing and gateway integration quickly and affordably. We're here to help customize as needed and promote your business online too - contact us to discuss your goals.
Website Card Payments Direct Through Processor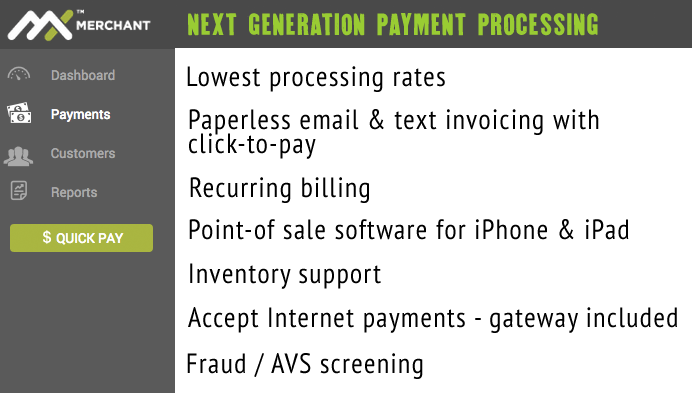 Intuitive Back Office Administration
Manage payments both from the PrestaShop back office order screen and MX Merchant. MX Merchant also allows you to run new transactions and add customers.
MX Merchant

PrestaShop Module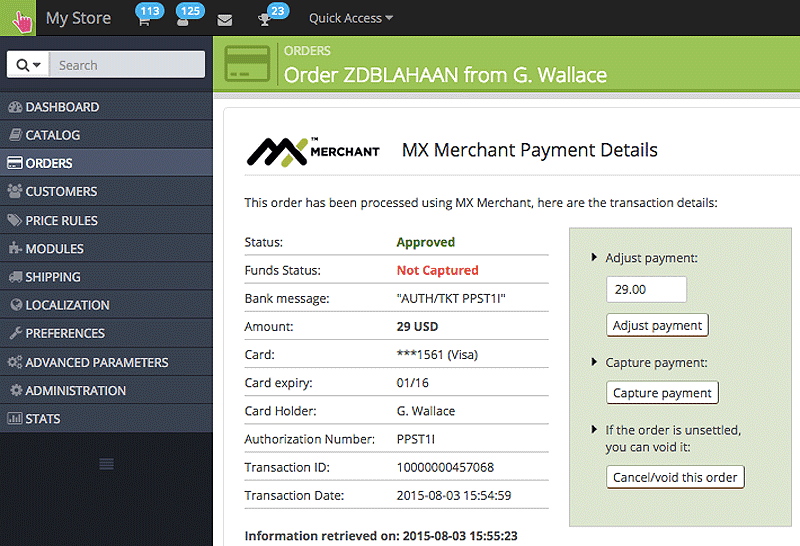 The MX Merchant module for PrestaShop enables your PrestaShop store to accept credit card payments through the MX Merchant gateway.
With this module, your PrestaShop store can integrate directly with MX Merchant to process your website's payments at our low rates.
Approved transactions are posted in MX Merchant, along with customer contact information. Future orders from repeat customers update the contact information stored in MX Merchant.
In Prestashop, orders placed are first authorized. You can then adjust, void, capture and refund transactions in the PrestaShop admin screen.
To prevent fraud, MX Merchant can and should should be configured to reject transactions if the card zip code and code verification id do not match.
The MX Merchant module can be added to any PrestaShop store, hosted with us or elsewhere including PrestaShop's free cloud hosting service.